Last night we were all invited to some Indian friends house to celebrate
Deepavali
with them. It was our first Deepavali celebration (
apart from in school
) and we had
such
a fantastic night!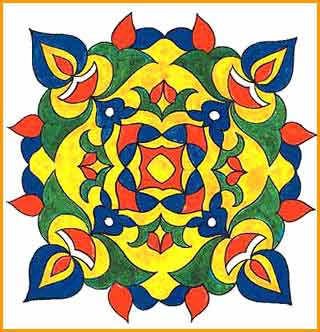 Deepavali/Diwali marks the beginning of the Hindu New Year according to the Lunar Calendar. It translates to 'Row of Lights', celebrates the victory of goodness over evil and light over darkness; and it ushers in the new year. There are many different names for the days of Diwali in different regions of India and in the different languages spoken in those regions.
Our friends had put on a
fantastic
feast, with an abundance of Indian food, all cooked fresh at the party, fresh fruit, drinks and traditional sweets. Their house was decorated in colourful lights and they had organized a fantastic firework display to the delight of all the children, and adults!
The hosts and quite a few of their guests were dressed in
amazingly
beautiful traditional dress, fab!
We spent quite a while watching the chefs, as they had a traditional
tandoor oven
where they cooked all the prawns, tandoori chicken and naan bread.
The chef was really fast when he placed the naan bread on the walls inside the oven, fascinating to watch! Lucas had a long look:
Grandma learning more about the tandoor oven:
Linnea and her friend Khushi: